Filed in:
Some great info from TU Berlin on Wavefield Synthesis including their
http://audio.qu.tu-berlin.de/?tag=soundscape-renderer
Filed in:
Ear to the Earth
Thursday 31 May 6.30pm
In collaboration with Ear to the Earth and the Electronic Music Foundation, New York, join us for an evening of sonic exploration, presenting exquisite spatial recordings from around the globe, exploring acoustic ecology, soundscape, and our changing sonic environment, including the CD launch of Ros Bandt & Leah Barclay – Rivers Talk.
Programme
Hollis Taylor: Pied Butcherbird Song (field recordings)
Garth Paine: Presence in the Landscape
Ros Bandt: Tragoudia (soundscape with Tarhu & Habiouli)
Leah Barclay: Narmada Valley Sketch *
Jon Drummond: New Work *
Ros Bandt & Leah Barclay: Rivers Talk *
(* premiere)
Post Concert: Ros Bandt & Leah Barclay – Blue Gold/Rivers Talk CD Launch
@ Bon Marche Studio 755 Harris Street, Ultimo
University of Technology, Sydney
UTS Broadway – Bon Marche Building CB03.01.05
for more see here
Filed in: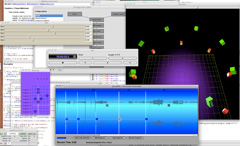 BEASTmulch – Research – BEAST – University of Birmingham.
BEASTmulchLib is a SuperCollider class library designed for use in the creation, processing and presentation of complex multichannel signal chains. Objects include sources, matrix routers and mixers, and sound processors and spatialisers. The latter are based on a simple user-extensible plugin architecture. Many classes have elegant GUI representations.
The library also includes classes which represent a variety of different controllers, including MIDI controllers, GUI Faders, EtherSense, etc., and provides support for controller automation (i.e automated mixing and diffusion).
It supports a number of common spatialisation techniques, such as Ambisonics, and includes SC ports of Ville Pullki's Vector Base Amplitude Panning (VBAP), and the Loris analysis resynthesis method. It also supports some idiosyncratic techniques, such as Spatial Swarm Granulation, and provides utility classes for Speaker Array balancing and visualisation.
N.B. Currently the library is not fully cross-platform: GUI classes and UGens are OSX only.