Filed in:
If you are around UCD on April 12/13 – come and see our performance – BodyText is an interactive dance work by Sue Hawksley, Simon Biggs and Garth Paine. Looks like and interesting conference as well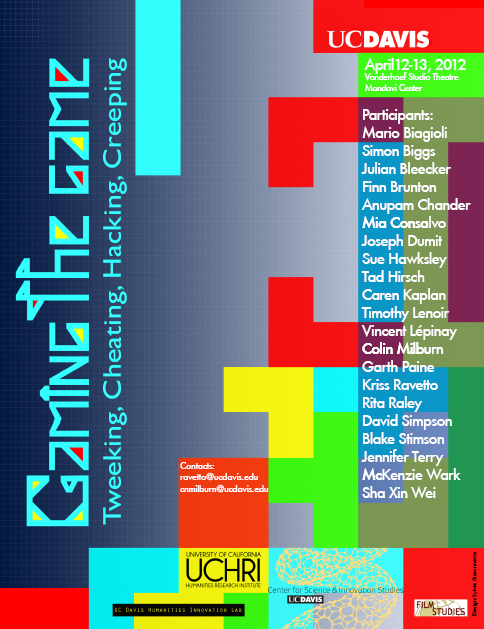 Filed in:
I have a series of works in the upcoming scan2Go exhibition, curated by Conrad Gleber, and Gail Rubini.
The College Art Association Services to Artists committee in collaboration with v1b3 (v1b3.com) are producing a printed catalogue of digital media art works entitled SCAN2GO. The catalogue will represent the artworks by printed QR codes, which function to connect viewers to digital media art works by using a smart phone.
The SCAN2GO catalogue will be dynamic for one year.
Artists will be assigned a QR code (printed in the catalogue) that links to an artwork.
Every four months each artist will provide us a new artwork for the QR link.
The printed catalog will be distributed during the CAA conference in Los Angeles, February 22-25, 2012. The QR codes are linked to a web address/url that shows an art piece (sound art, video, code pieces or web art) that will be viewed on smart phones and camera enabled tablet computers.
ESSAYS/WRITING
Conrad Gleber, Introduction
Meredith Hoy, Essay
Filed in:
I am playing my work Fue Sho for flute and live electronics (Kyma) as part of the ACME concert on Dec 2 at ASU in Tempe, Phoenix, Arizona – its free so come along if your in Tempe
Arizona Contemporary Music Ensemble (ACME)
Dec. 2, 2011, 7:30 p.m.
Herberger Institute for Design and the Arts
School of Music
Location: Katzin Concert Hall
Campus: Tempe
Cost: Free
The Arizona Contemporary Music Ensemble (ACME), directed by Glenn Hackbarth, presents a concert of works for small ensemble, soloists and electronics. Composed within the past few decades, the works on this program provide a view of the varied creative activity in the music of our time
you can hear a recording here
Filed in:
This is an example of some bio-data coming from a dancer (Alyssa), driving both sound generation in realtime and image generation. The sound is in Kyma and the image is in Unity3D. I am working with collaborators at ASU (Julie, Alyssia, Andreea) to develop a new dance work using these techniques – this is early material from that work
Filed in: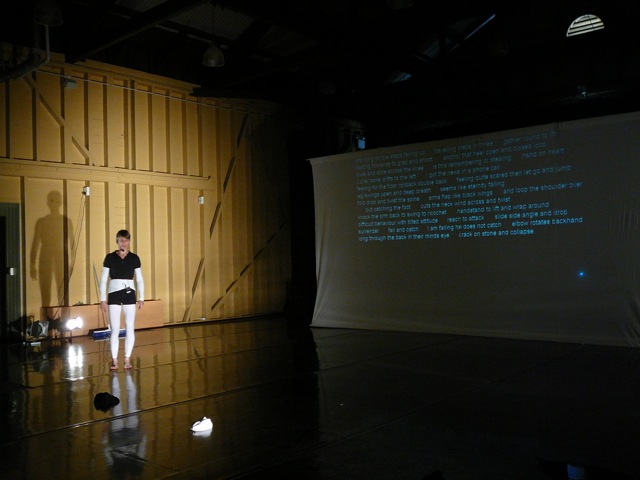 InTensions & Bodytext
Collaborative works by: Simon Biggs, Sue Hawksley, Garth Paine
Bodytext
Bodytext is a performance work which uses speech, movement and the body, to question and offer insight into the relations between movement, agency, representation and language.
Using real-time motion capture, voice recognition and interpretive language systems, the dancer's movement and speech are acquired and remediated within the performance space. The dancer's acquired speech is re-written within a projected digital display, the text animated by and re-presenting the performer's gestures. The performer can, through their movements, cause texts to interact and recombine with one another, changing their grammatical composition in the projection.
Visual Artist: Simon Biggs
Choreographer/performer: Sue Hawksley
Sound Artist: Garth Paine
Bodytext was completed through an artists' residency at the Bundanon Trust (Australia) and a subsequent collaborative residency with sound artist Garth Paine at the Virtual Interactive Performance Research Environment (VIPRe) Lab at the University of Western Sydney.
_____________________________________________________________________________
Details:
Date: Saturday 16th October
Time: 7.30pm
Venue: Woodend Barn, Banchory
Cost: £9 / £7
Booking: www.boxofficeaberdeen.com
via DanceLive | Aberdeen's contemporary dance and live music Festival.