Filed in: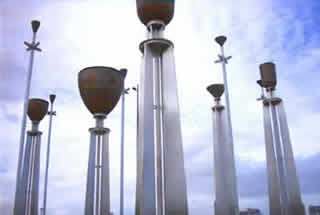 The Federation Bells is a new approach to carlillions – developed by Neil McLachlan and Anton Hasell, the bells are in Melbourne's newest city park, Birrarung Mar, beside the Yarra River
The Australian Bell project is a sound sculpture of 39 bells collectively named the 'Federation Bells' that performs the works of seven Australian contemporary composers everyday between 8-9am and again between 5-6pm and was launched in Melbourne on Australia Day (26 January 2002).
The Federation Bells are tuned using 'just' tuning, as opposed to the more familiar 'equal temperament', the way a piano is tuned in 12 equally distributed intervals. 'Just' tuning is based on naturally occurring pitches from the harmonic series, which create a purer array of overtones — overtones that have not been imposed by an equally tempered tuning system. In other words, its closer to Pythagoras' idea of harmony than to Bach's. Bells, however, vibrate in different ways to stringed instruments and so require a different tuning treatment.
The ABC have a story on the bells here
The Space Music Feature: Australian Bell Project
and the AusBell Site is here.
I wrote a work called Klangfarbe for the inaugration.