Filed in:
Interesting new micro-processor with wireless OSC inbuilt
http://www.x-io.co.uk/products/x-osc/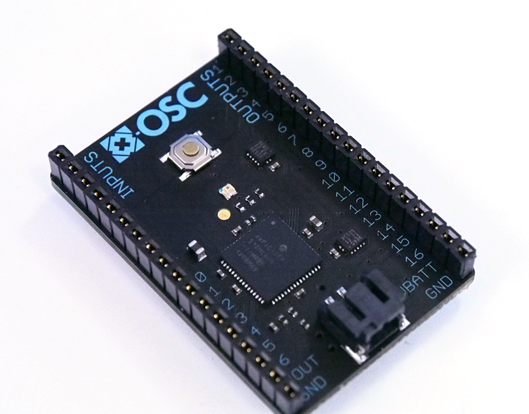 x-OSC is a wireless I/O board that provides just about any software with access to 32 high-performance analogue/digital channels via OSC messages over WiFi. There is no user programmable firmware and no software or drivers to install making x-OSC immediately compatible with any WiFi-enabled platform. All internal settings can be adjusted using any web browser.
I/O channels
16× analogue/digital inputs
16× digital/PWM outputs (up to 50 mA per channel)
13-bit ADC with 400 Hz update rate per channel
Up to 16-bit PWM resolution for 5 Hz to 250 kHz
4× serial communication channels
On-board sensors
Gyroscope (±2000°/s), accelerometer (±16 g) and magnetometer
400 Hz update rate
Networking
High-performance WiFi (802.11b/g, 54 Mbps)
Supports ad-hoc and infrastructure networks
Fully configurable by web browser