Filed in:
contact performance'>★ audiocommander.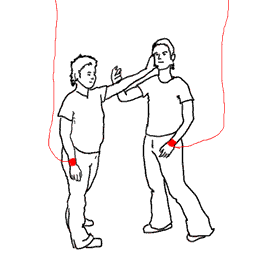 As soon as both persons are "wired", each skin contact results in the sound of music, which provides harmonic as well as rhythmical aspects. The harmony is changing by different precalculated parameters. If the contact is interrupted, the music stops, too.
A chain of multiple persons is possible, due to the conductiveness of the human body.
Textual Description
The main focus of the work is the invitation to get in skin-contact, whereas the selected sound requires a different touch-concept of the user. Skin contact beyond hand-shaking has to be seen in the context of privacy and intimacy; there is a permission required to touch and we all know the fear of contact.
The analysis with another sense level (hearing) in connection with our largest sense organ (the skin) allows a different approach to a most often unconscious behaviour.