Filed in:
An excellent article debunking some of the gloss, the "fix everything" shine placed on the idea of the network and crowd sourcing as THE new paradigm. The Open, Free ideals that drive mega profits for Google, Apple etc.
Filed in:
Farina outer ear audio conduction
Farina is a new class of audio transducer and delivers music and speech to the user by precisely controlling vibrations to the outer ear, turning the pinna itself into the loudspeaker.
The driver has been designed to embed seamlessly into the frame of sports and augmented reality glasses to create rich audio with strong bass for the user whilst cycling or walking; and in 3D glasses to enable a 3D audio effect without the need for addition side or rear speakers.
Unlike ear buds, the Farina does not obstruct the ear canal meaning outside noise can be clearly heard and also unlike ear buds, Farina doesn't create sound pressure spikes that can lead to hearing damage.
With a threefold rise in headphone related pedestrian deaths in the US between 2005 and 2011, a 7pc annual rise in cycling deaths in the UK and nearly a third of urban cyclists ignoring safety warnings and riding with headphones Farina has a significant potential to improve safety for consumers.
It is designed for use in audio, video, augmented reality and gaming applications.
A PDF of further info is here
.
Filed in: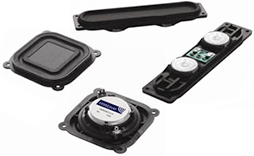 Balanced mode radiators (BMR's)
The tables below show the currently available BMR drivers. These combine bending wave technology with pistonic motion to create full audio range, wide-dispersion speaker drivers for life-like sound reproduction.
Filed in:
Some interesting hackable haptics solutions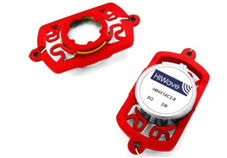 Bending wave haptic exciters
The haptic exciters are designed to be attached to the reverse side of a rigid panel and generates bending waves to produce both sound and tactile (haptic) feedback. The exciter delivers significant resonant output at specific haptic frequencies in addition to a nominally flat frequency response over the audio bandwidth.
Filed in:
One of the composers who has inspired me along the way
British composer Jonathan Harvey has died aged 73, it was announced today. His publisher, Faber Music, confirmed that Harvey, who had been suffering from motor neurone disease for some time, died peacefully in a hospice in Sussex on Tuesday evening.
Filed in:
Looks like its ready to launch
Audiobus: Live, app-to-app audio streaming on iOS..
Hello friends of Audiobus,
We're going to launch Audiobus on Monday, December 10th 2012.
It will cost 9.99 US$ and it's going to be available for the iPad, iPhone and iPod Touch on iOS 5.0 and later.
Supported apps at launch will be, in alphabetical order:
Funkbox (input slot)
JamUp XT (effects slot)
JamUp Pro XT (effects slot)
Loopy (input and output slot)
Loopy HD (input and output slot)
MultiTrack DAW (output slot)
NLog MIDI Synth (input, effects and output slot)
NLog Synth PRO (input, effects and output slot)
Rebirth for iPad (input slot)
SoundPrism Pro (input slot)
Sunrizer Synth for iPad (input slot)
We're expecting Thumbjam and Drumjam to be available shortly after launch since they're currently waiting to be reviewed by Apple App Review.
Moog and Wavemachine Labs have been working on makingAnimoog and Auria, respectively, compatible with Audiobus but implementation is not yet complete for either of them.
We'll be starting a limited second wave of Audiobus apps – limited so we can rapidly respond to any potential remaining issues – by giving another 25 developers access to the SDK. These developers will be selected from the list of developers who have expressed interest in acquiring access to the SDK – currently that's a list more than 700 entries strong.
After a sufficient amount of apps from the second wave of developers have been approved by App Review and feedback is favorable, we're going to make the SDK public. This is going to happen in the next months.
For those asking themselves how long it takes a developer to implement Audiobus support into their app: It depends on the complexity of the app and level of integration. The fastest teams have done it in one day. Testing and submission to App Review is typically the most time-consuming part.
We're currently finalizing the manual and we're going to post videos demonstrating the less obvious features of Audiobus over the course of this week to shorten the wait.
The Audiobus Team