Filed in:
This is interesting because it hase a reasonable range (33′ being class 2 Bluetooth) and it has charging and is integrated with the iPhone and may be hackable for other applications – could be of use for rehab and distraction applications in hospitals.
Scosche myTREK wirelessly connects to iPod touch or iPhone
No bulky chest straps or wires!
Audio prompts for real-time feedback while you work out
Control music from the armband while you work out
Lithium-ion battery provides up to 5 hours of workout time
Includes USB charging cable
Work out from up to 33 ft away from your device
Scosche myTREK App manages pulse, training type, calories burned, distance run, music and more*
Filed in:
BTS Bioengineering | BTS FREEEMG 300.
Interesting small modular EMG solution for BioSensing
BTS FREEEMG 300 represents a generation leap in diagnostic device technology for surface dynamic electromyography analysis. Based entirely on wireless technologies, BTS FREEEMG 300 is the first electromyography unit in the world using 16 miniaturized probes with active electrodes weighing less than 9 grams for signal acquisition and transmission.
BTS FREEEMG 300 stands for an improvement in the performance of the FREEEMG systems already appreciated by researchers and clinicians throughout the world. These practitioners need to be able to rely on a daily basis on a highly efficient system easy to configure and use, for differentiated clinical and researcher applications.
The probes amplify the EMG signals, digitize them and communicate with the compact and light receiving unit,, which can be either way worn by the patient, left on the table or held by the doctor.
The complete absence of wiring not only minimizes the patient distress during the preparation but also grant them a full range of motion during the task without restrictions..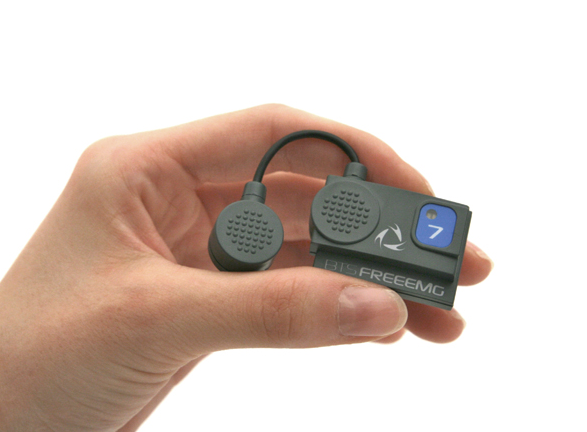 Filed in:
On behalf of the NIME 2012 Committee, we would like to invite you to be part of the 12th international conference on New Interfaces for Musical Expression conference, organized by the University of Michigan in Ann Arbor, USA.
We invite submission of new works in the following categories:
Paper (oral/poster/demo)
Performance
Installation
Workshop
IMPORTANT DATES
Paper/performance/installation/workshop submission: 31 January 2012
Review notification: 16 March 2012
Final paper deadline: 20 April 2012
For any further information/questions/comments/suggestions, please contact the organizing committee.
Filed in:
particle by Kanta Horio
via particle by Kanta Horio – YouTube.
Love this piece – at NIME in Japan he extended the paperclips section with a video buffered section using paper crunching and tearing – it was Awesome
Filed in:
Eli Pariser of the progressive organization MoveOn says the Internet is hiding things from us, and we don't even know it. In this TED Talk he calls out Facebook, Google and other corporations who are transforming the Internet to suit their corporate interests:
Statistics and personal data being use for improving search results is a great concept, although we should still have the ability to bypass any filter. But the same concept applied to passive newsfeeds is very dangerous. It can lead to brainwashing and isolation. The psychological effect of this gradual narrowing field of view is scary to say the least.
Filed in:
contact performance'>★ audiocommander.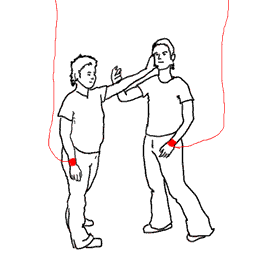 As soon as both persons are "wired", each skin contact results in the sound of music, which provides harmonic as well as rhythmical aspects. The harmony is changing by different precalculated parameters. If the contact is interrupted, the music stops, too.
A chain of multiple persons is possible, due to the conductiveness of the human body.
Textual Description
The main focus of the work is the invitation to get in skin-contact, whereas the selected sound requires a different touch-concept of the user. Skin contact beyond hand-shaking has to be seen in the context of privacy and intimacy; there is a permission required to touch and we all know the fear of contact.
The analysis with another sense level (hearing) in connection with our largest sense organ (the skin) allows a different approach to a most often unconscious behaviour.
Filed in: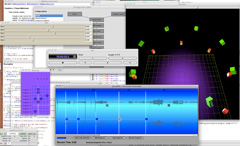 BEASTmulch – Research – BEAST – University of Birmingham.
BEASTmulchLib is a SuperCollider class library designed for use in the creation, processing and presentation of complex multichannel signal chains. Objects include sources, matrix routers and mixers, and sound processors and spatialisers. The latter are based on a simple user-extensible plugin architecture. Many classes have elegant GUI representations.
The library also includes classes which represent a variety of different controllers, including MIDI controllers, GUI Faders, EtherSense, etc., and provides support for controller automation (i.e automated mixing and diffusion).
It supports a number of common spatialisation techniques, such as Ambisonics, and includes SC ports of Ville Pullki's Vector Base Amplitude Panning (VBAP), and the Loris analysis resynthesis method. It also supports some idiosyncratic techniques, such as Spatial Swarm Granulation, and provides utility classes for Speaker Array balancing and visualisation.
N.B. Currently the library is not fully cross-platform: GUI classes and UGens are OSX only.