Filed in:
Introducing the ITU Gaze Tracker 2.0 Beta"We've made great progress since the initial release, today we open the doors for version 2.0. Internally we've rewritten major parts of the platform to gain flexibility and higher performance.  First version was DIY playtime, this version is nothing short of a screamer. High performance, very accuracy tracking. People are telling us we are crazy giving it away but we're dedicated to the mission: Accessible eye tracking for all, regardless of nationality and means. We're making it happen."Important highlights for GT2.0b:- Supports three modes of operation, head-mounted, remote mono/binocular- Vastly improved performance, +500fps head mounted, +170fps remote binocular both eyes- Awesome accuracy, avg. 0.3 – 0.7 degrees of visual angle remote binocular- New U.I, looks so.. 2010- Automatic tuning optimization of algorithms parameters- Relatively low CPU-utilization and memory footprint 12%, 170Mb, core i7 860 win7-64- Many enhancements, bug-fixes etc.More info:http://forum.gazegroup.orghttp://develop.gazegroup.org
Filed in:
Interesting
What if you could make any device or any software a re-programmable musical instrument, effect, or soundmaker? Your phone could be a touch-controlled effect, your tablet a sketchpad for interactive drum sequencers. Patches assembled on your desk on a computer could be taken with you in your pocket. And what if you could do all of this for free, using a time-tested environment?
libpd, authored by Peter Brinkmann, takes on that vision. It's a way of making Pure Data Pd, the visual development tool for interactive music and media, more accessible across a range of applications and gadgets. It lets you embed Pd pretty much anywhere. It's not a new version of Pd. Instead, it makes use of the standard, "vanilla" distribution of the free and open source software. What's different is that it separates the sound processing part of Pd from the part that talks to audio hardware, allowing Pd to run on a greater variety of mobile devices and inside other applications.
libpd:
turns Pd into an audio synthesis and processing library
liberates Pd from GUI and drivers
allows for easy communication between Pd and the code into which it is embedded so you can send and receive messages with your Pd patch
Today, a team of developers and testers including myself is releasing the first version of libpd. It's free to use on any device you wish, and free to modify. Because of its licensing, you can even build commercial applications with it. That is, yes, it's open source – but yes, it can also be useful if you're a commercial developer. You don't have to choose.http://gitorious.org/pdlib | community discussion
We're just pleased to have a tool that makes experimenting with sound and music quicker, easier, and more flexible and compatible. It's more fun that way.
via Create Digital Music » libpd: Put Pure Data in Your App, On an iPhone or Android, and Everywhere, Free.
Filed in:
Symbolic Sound's new Kyma Control app
for the iPad gives sound designers, musicians, and researchers a new wireless multi-touch controller for the Kyma/Pacarana sound design workstation.
Kyma Control bundles four of the most popular Kyma controller-types into one, wireless multi-touch package that includes:
An auto-mapped, labelled, bi-directional controller/display that mirrors Kyma's Virtual Control Surface. All of the controls you see on the computer screen are also available on the iPad screen, including the Preset selection and Roll-the-dice options;
A multi-touch pen/tablet-style controller, tracking as many as 11 fingers with identifying color trails to help you keep track of where your fingers are touching the screen;
A standard piano-style keyboard with discrete or continuous pitches and an extra dimension for !KeyTimbre control in Kyma;
A Tonnetz pitch-space keyboard with configurable vertical and horizontal intervals for experimenting with different pitch layouts;
Plus accelerometer and compass-heading controls. Accelerometers supply both triggers and continuous controls based on acceleration in the X, Y, and Z directions, along with controls corresponding to Pitch, Roll and Yaw. A compass heading control corresponds to the current direction of the iPad and is useful for panning and other directional controls.
Kyma Control is available now from the app store for $14.99.
via Kyma Control Turns iPad Into Wireless, Multi-Touch Sound Design Control Thang » Synthtopia.
Filed in:
Looks like a great new approach to turning Max/MSP patches into plugins – yehhh I miss Plugo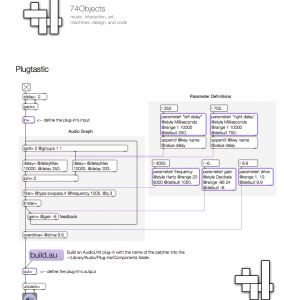 Filed in: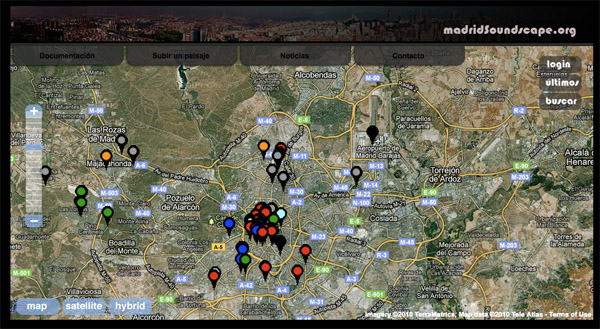 There's an amazing film sequence of San Francisco in 1905. A camera was placed on a streetcar and driven down Market Street, the diagonal that cuts through the city's core. Pedestrians, cars, carts, horses, the whole dizzying array of urban life before electricity and the automobile turned our cities inside-out. We recognize our buildings, but not our city. Similar recordings exist of most major cities.I figured that there had to be similar documentation of the metropolitan soundscape, or any soundscape really.But there isn't.
via The Quest to Find the First Soundscape – Alexis Madrigal – Technology – The Atlantic.
There is also an interesting paper from a project at Arizona State University – see Soundscape Model
Filed in:

Sound Devices' USBPre® 2 is a high-resolution, portable hardware interface for Mac- and Windows-based digital audio. The USBPre 2 is the industry's highest performance and most flexible portable interface, connecting professional microphones, line-level sources, consumer audio electronics, and S/PDIF digital sources with Mac OS and Windows computers via USB.Precision Microphone PreamplifiersUSBPre 2 includes two discrete-transistor microphone preamps with 24-bit converters and sampling rates up to 192 kHz. These preamplifiers provide the highest performance in any portable interface. Their topology is shared with Sound Devices award-winning 744T Digital Audio Recorder. Peak limiters, high-pass filters, and a 15 dB pad add overload protection.
All analog-to-digital and digital-to-analog conversion is performed by the USBPre 2 for superior audio performance.Computer ConnectivityUSBPre 2 is a class-compliant audio device. This allows for simple plug-and-play connection to computers running Mac OS, Windows, and Linux. There are no drivers to install for the USBPre 2 and there are no software-only features. All additional controls and settings are available on back panel DIP switches. The USB port also provides power to the unit, both when connected as an audio interface and when used in Stand-Alone operation.
via USBPre 2 Microphone Interface for Computer Audio | Sound Devices, LLC.