Filed in:

WiiDataCapture 2.0
WiiDataCapture is a software that displays and saves acceleration data of upto 8 NintendoWiimotes.
WiiDataCapture 2.0
via MoCap Toolbox — Humanistinen tiedekunta — Jyväskylän yliopisto – University of Jyväskylä.
Filed in:
MoCap Toolbox
The MoCap Toolbox is a Matlab® toolbox that contains functions for the analysis and visualization of motion capture data. The toolbox is mainly aimed for the analysis of music-related movement, but might be useful in other areas of study as well. It supports the generic .c3d file format, the .tsv data format produced by the Qualisys Motion Capture system, and the .wii format produced by the WiiDataCapture software.
To use the toolbox, you need the Matlab software (www.mathworks.com). Before using it, the toolbox has to be added in the Matlab path variable. The toolbox should be compatible with most versions of Matlab and most platforms. It has been tested on Matlab version 7.4-7.9 running on Macintosh OS X v10.4-10.6. The MoCap Toolbox comes with no warranty. It is free software, and you are welcome to redistribute it under certain conditions. See the file License.txt provided with the toolbox for details of GNU General Public License.
via MoCap Toolbox — Humanistinen tiedekunta — Jyväskylän yliopisto – University of Jyväskylä.
Filed in: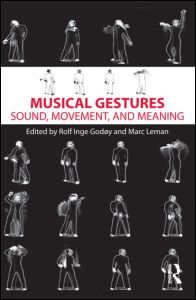 Published by Routledge
ISBN: 978-0-415-99887-1 (paperback) 978-0-415-99886-4 (hardback) 978-0-203-86341-1 (electronic)
Publication date: 18th December, 2009
We experience and understand the world, including music, through body movement–when we hear something, we are able to make sense of it by relating it to our body movements, or form an image in our minds of body movements. Musical Gestures is a collection of essays that explore the relationship between sound and movement. It takes an interdisciplinary approach to the fundamental issues of this subject, drawing on ideas, theories and methods from disciplines such as musicology, music perception, human movement science, cognitive psychology, and computer science.
Rolf Inge Godøy is professor of musicology at the University of Oslo in Norway.
Marc Leman is research professor of systematic musicology at Ghent University in Belgium.
via Musical Gestures: Sound, Movement, and Meaning – Institutt for musikkvitenskap.
Filed in:
The digital party has been going on for some time.
The studio engineers were invited. The keyboard players were invited. Even those damn drummers were invited. While the guitarists have stood waiting for the call.
We all know the reasons. Those pesky strings are tough to digitize. MIDI guitars are too temperamental. If guitars were really meant to be digital, they'd have buttons instead of strings.
No argument here.
That's exactly why we created Kitara.™
Kitara is the stringless guitar. Your ticket to a world of digital sound and effects. Easy to pick up, very tough to put down. Stage or studio, simply plug in and play.
via Kitara | What it is.
Filed in:
This is a terrific initiative – well done guys. I have been using video tracking with heavily disabled clients for music therapy, and would love to look at using this eye tracking for musical purposes as well.
The EyeWriter project is an ongoing collaborative research effort to empower people who are suffering from ALS with creative technologies.It is a low-cost eye-tracking apparatus & custom software that allows graffiti writers and artists with paralysis resulting from Amyotrophic lateral sclerosis to draw using only their eyes.
The Eyewriter from Evan Roth on Vimeo.
via EyeWriter Initiative.
eyewriter tracking software walkthrough from thesystemis on Vimeo.
Filed in:
This looks very promising – some amazing examples
The OpenNI organization is an industry-led, not-for-profit organization formed to certify and promote the compatibility and interoperability of Natural Interaction NI devices, applications and middleware.As a first step towards this goal, the organization has made available an open source framework – the OpenNI framework – which provides an application programming interface API for writing applications utilizing natural interaction. This API covers communication with both low level devices e.g. vision and audio sensors, as well as high-level middleware solutions e.g. for visual tracking using computer vision.On this website you will be able to download the open source OpenNI framework, and get information on third-party hardware and middleware solutions which are OpenNI compliant.Example The following video, which demonstrates real-time skeleton tracking, was produced using the OpenNI compliant NITE middleware by PrimeSense, running on their PrimeSensor depth sensing hardware, all connected using the OpenNI framework.
Filed in:
CROSS GROOVE
Saturday 20 November, 8pm Blacktown Arts Centre
Cross Groove is a collaborative exploration of riffs, grooves, breaks and sets, shaped by original intercultural drumming. It is an interactive explosion of live and electronic soundscapes. Audience members interact with the artists, using Wii controllers to trigger real time samples of cross grooves.
A newly commissioned BAC work, part of the Drumming Cultures Initiative
.Cost: $20 Adults, $15 Friends of BAC/concession. Book Here
Performers: Michael Atherton Composition, percussion, SMS, prose, Ta'ane Tipulu Tongan, Samoan & Cook Island drumming and chant, Fernando Andres Afro-American percussion, Uruguayan Candombe, Garth Paine electronic interactive percussion, flutes.