Filed in: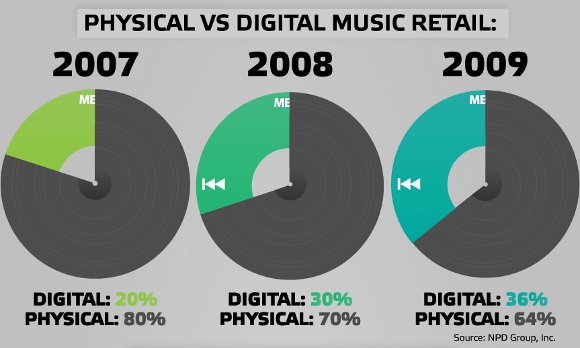 Create Digital Music have put together an interesting article on the rise of digital music sales and the sources we use to get the grooves… Digital Sales Up, But is Apple Monopoly the Price? NPD, Mint Data, Editorial Analysis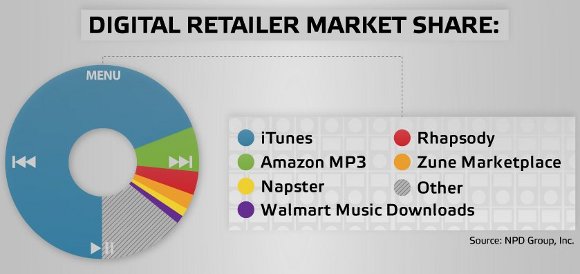 Filed in:
Interesting new sensing platform which looks great for bio-sensing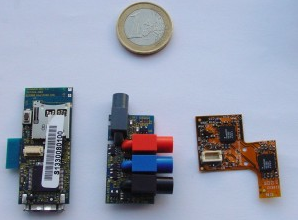 Shimmer Small Wireless Sensor Platform Designed to Support Wearable Applications
Wireless Sensors have progressed in recent years due to the development of micro electromechanical MEM technology. However, traditional constraints such as size, weight, reliable wireless communication and power consumption are issues that wireless sensors must contend with. Shimmer provides and extensible platform that allows you to overcome traditional hardware and software constraints through the following features:
Very low power consumption
Soft power switching
Small form factor: 50mm x 25mm x 12.5mm
Light weight: 15 grams
Readily connects via Bluetooth or 802.15.4 radio
Platform Features
Compact Form Factor, Light & Wearable Weight: 15 Grams, Volume: 50mm x 25mm x 12.5mm
Wireless communications via Bluetooth® and 802.15.4 WML-C46A, CC2420
Offline Data Capture – Micro SD Card Storage – 2 Gigabytes
SD data bypass 8MHz MSP430 CPU 10Kbyte RAM, 48Kbyte Flash, 8 Channels of 12 bit A/D
Open Platform, driven by TinyOS
Internal and external connectors for expansion
Includes simple serial command interface for Bluetooth®
Integrated TCP/IP stack for 802.15.4
Integrated 3-axis MEMs accelerometer with selectable range
Integrated tilt / vibration sensor
Integrated Li-ion battery mgmt.
Supported by BioMOBIUS™ graphical software platform
Available as add-on extension boards and accessories
Kinematics sensing – Designed for motion capture applications. The design uses a pair of dual-axis gyroscopes.
3 Lead Micro-power electrocardiograph ECG – Utilised for the capturing of ECG data
2 Lead Micro-power electromyograph EMG – Utilised for evaluating and recording the activation signal of muscles
Passive Infra Red –
USB dual UART programming dock – for programming and applications where wired serial communication are desirable. Also acts as a single SHIMMER™ charger
SHIMMER™ Charger dock – battery charger cradle that can charge 6 SHIMMERs simultaneously
Analog Breakout board to thru-holes for rapid prototyping – enables multiple analog signals to be plugged into SHIMMER™.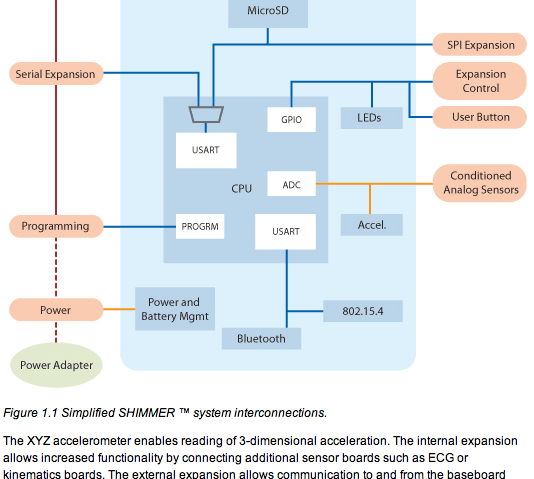 Filed in:
The QVicon2OSC — The SonEnvir project portal contains a link and info on an QVicon to OSC app.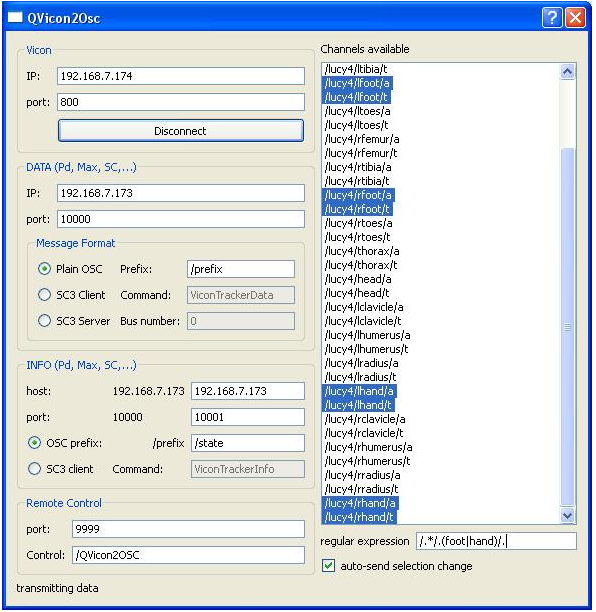 Filed in:
This is an interesting company, doing bio-feedback – Biofeedback Equipment: Thought Technology Ltd.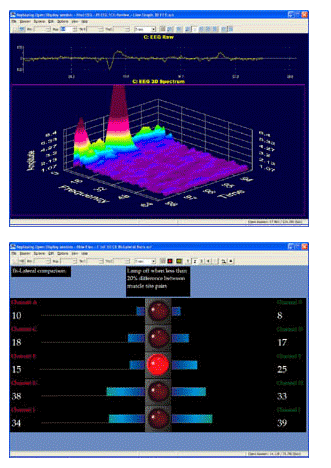 Filed in:
Over the last 2 years, I have been working with dancer Helln Sky to develop an interactive dance work that uses bio-sensors on her body to drive realtime sonification/synthesis of sound and generation of images. Hellen has placed some video on YouTube, which includes elements of the first performance season in 2008 in Melbourne Australia, and a few video clips from a recent development period at the Perth Institute of Contemporary Art, in August 2009. Here is one of the clips from this year – all the sound is generated from Hellen's voice (she is wearing a radio mic), and manipulated using the bio-sensors in realtime – the images are also controlled by bio-sensing. Some background info is available on the website of the Australia Council for the Arts, the funding agency who supported the research.
Filed in:
[CIRMMT-news] CIRMMT workshop on Taxonomies for Digital Musical Instruments and Interfaces – October 23rd from 6-8pm
The Centre for Interdisciplinary Research in Music Media and Technology (CIRMMT) is pleased to announce an upcoming workshop on taxonomies for digital musical instruments and interfaces, organized by CIRMMT Research Axis 2 (Musical gestures, devices and motion
capture).
This workshop is free and open to all.
DATE: Friday, October 23, 2009
LOCATION: Clara Lichtenstein Recital Hall, C-209, Strathcona Music
Building, 555 Sherbrooke Street West
TIME: 6:00-8:00 p.m.
SEATING IS LIMITED (35-40 seats).
REGISTRATION is required. Please fill out the online registration form .
The goal of this workshop is to present and discuss approaches to cataloging, comparing and categorizing interfaces for performing music, in particular the Taxonomy of Realtime Interfaces for
Electronic Music Performance (TIEM) project: (http://vipre.uws.edu.au/tiem/).
Presentation on the TIEM project by Garth Paine (University of Western Sydney).
Workshop guests include Joel Chadabe (Electronic Music
Foundation), Axel Mulder (Infusion Systems Ltd.), and Garth Paine
(University of Western Sydney).
Sara Gomez
Research Administrator
Centre for Interdisciplinary Research in Music Media and Technology
(CIRMMT)
Schulich School of Music of McGill University
555 Sherbrooke West
Montréal, Québec, Canada H3A 1E3
Tel: (514) 398-2464
Fax: (514) 398-7414
Email: sgomez@cirmmt.mcgill.ca
http://www.cirmmt.mcgill.ca