Filed in:
A video of the early tests of my new Singing Bowl robot – the sound is not good yet, but there is more experimentation in the beater leather to soften the sound timbre
The Singing Bowls Robot V2 from Garth Paine on Vimeo.
Filed in:
Some experiments I have been undertaking using live sound analysis to drive video manipulation/generation in realtime for performance purposes
Evolving Tapestry from Garth Paine on Vimeo.
Filed in:
Version 2 of the Singing Bowls robot. This one is excellent – the motors are really wuiet – the foam works really well – easy to work, good quietning characteristics and really strong. I am very proud of the spring loaded servo connection to the playing stick – this allows for small variations in pressure and for minor in-consistencies in the bowls symetry. You can see the Arduino and Xbee in a poacket and the battery pack goes in the other side.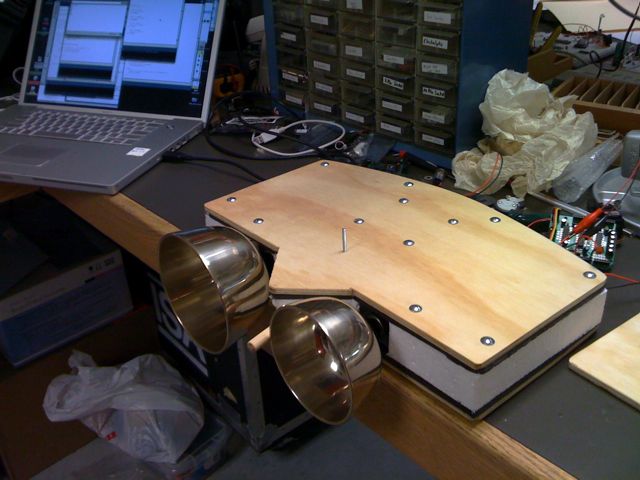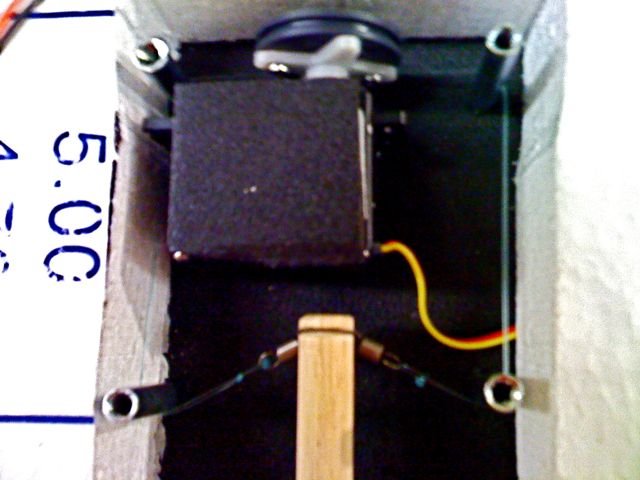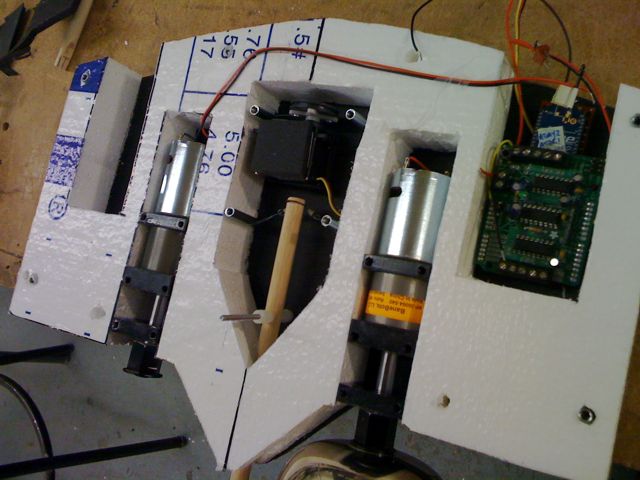 Filed in:
I was involved in this interesting research project over the last 2 years – here is a short documentary video about the project made by Mike Leggett
Thinking Through The Body ArtLab 08 is an interdisciplinary research project exploring the use and potential of touch, movement and proprioception (the sense of ones position and volume in space) in body-focused interactive art practices. Project participants are: Catherine Truman, Garth Paine, George Khut, George Khut, Jonathan Duckworth, Lian Loke, Lizzie Muller, Maggie Slattery and Somaya Langley.
The project has been supported through the Australia Council, Inter-Arts Offices ArtLab 2008? initiative, and generously supported by Campbelltown Arts Centre, The Bundanon Trust, and Performance Space.
Filed in:
the This is a great little, Arduino compatible board, which has an XBee slot on the back, making it cheaper than purchasing an Arduino and XBee shield and also giving it a much much smaller form factor. It is compatible with the Arduino API although you need to download the Funnel library as it has some other functionality. – well worth a look
It based on the original design from LilyPad Arduino v1.6. It has connections for a Lithium Polymer battery and includes a charge circuit over USB. An XBee socket is available on the bottom of the board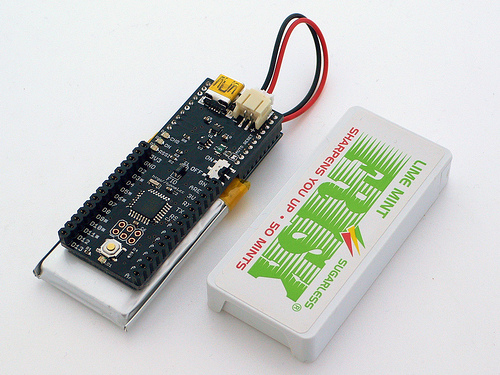 Filed in:
wiigee – a java-based gesture recognition library for the
Wii remote
iigee is an open-source gesture recognition library for accelerometer-based gestures specifically developed for the Nintendo® Wii™ remote controller. It is implemented in Java™ and, thus, is platform-independent. Using a third-party Bluetooth®-library wiigee allows you to define and recognize your own, freely trained gestures. Download it now
The wiigee library
allows you to define train your own arbitrary gestures,
recognizes these gestures with high accuracy,
offers an event-driven architecture with which you will be able to
integrate the gesture-input as easy as common mouse-input.
Filed in:
MATRIXSYNTH: Electronically Modified Didgeridoo Kyle Evans
I created this instrument to experiment in the combination of the organic sound qualities of a didgeridoo with the advanced signal processing capabilities of modern computer programming and sound synthesis. This custom built didgeridoo features externally mounted modules that allow the performer to process and manipulate the sound of the instrument in real time. All control data is transmitted wirelessly via blue tooth and is controlling several audio processes created in a custom-built software environment. If you have any questions about the instrument please feel free to ask.
http://www.myspace.com/kyleevansmusic
http://yaktronix.blogspot.com/"