Filed in:
From Synthtopia

Oldest Computer Music Found » Synthtopia

The BBC reports that newly found acetate disks contain what is believed to be the earliest known computer music recordings:
The songs were captured by the BBC in the Autumn of 1951 during a visit to the University of Manchester.
The recording has been unveiled as part of the 60th Anniversary of "Baby", the forerunner of all modern computers.
The tunes were played on a Ferranti Mark 1 computer, a commercial version of the Baby Machine.
"I think it's historically significant," Paul Doornbusch, a computer music composer and historian at the New Zealand School of Music, told BBC News.
"As far as I know it's the earliest recording of a computer playing music in the world, probably by quite a wide margin."
You can listen to the recording at the BBC site.
Filed in:
There is some interesting gestural control going on here – lots of Wii Controllers in used. Grainface, captured performing Furióus on January 2008 in the ZKM Kubus (Zentrum für Kunst- und Medientechnologie) Karlsruhe.
Grainface is the laptop ensemble of the Institute for musicology and musicinformatics (Musikwissenschaft und Musikinformatik) of the University of Music Karlsruhe.
Filed in:
The Telharmonium
Jean Laurendeau and the Ondes Martenot
Oskar Sala – Elektronische Impressionen Nr.1
The Mellotron
A modern Theramin being performed
The original Mini Moog
The Buchla 200
The ARP2600
The Trautonium
The Buchla Music Easel
More info on the Music Easel
Filed in: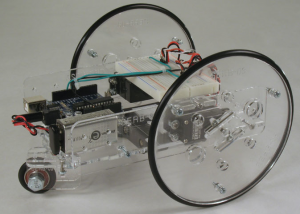 Arduino Controlled Servo Robot (SERB) – kit
A great kit that includes everything you need to begin experimenting with robots, Arduino micro-controllers and open source hardware. All carefully packaged and nicely presented.
(free shipping) -to USA and Canada
Features:
-Fully programmable using the optional Arduino Duemilanove micro-controller. (an open source micro-controller and development environment)
-High quality laser cut acrylic chassis. (with illustrated assembly guide)
-Solder-free.
-Ready to run. (pre-loaded program)
-Easily expandable and modifiable with extra bolt holes and included breadboard.
-Open source design. (licensed under Creative Commons 3.0 (Attribution-Share Alike))
-Dual ball bearing rear wheel.
Includes:
-Laser cut chassis.
-Arduino Duemilanove micro-controller.
-Illustrated assembly guide.
-All required nuts and bolts.
-2 Continuous rotation servo motors.
-All required wires.
-400 contact breadboard.
-4 x AA Battery Box (batteries not included)
-9v battery clip (battery not included)
Requires: (not included)
-4 AA batteries
-1 9v battery
-USB cable (a-b) (printer type)
-screwdriver (Philips)
-needle-nose pliers
Filed in: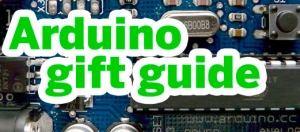 MAKE: Blog: Arduino Gift Guide!
The Arduino open-source microcontroller platform can be programmed and equipped to perform a nearly endless list of functions. It's likely the best all-around centerpiece to a modern electronics project. But one of the tasks Arduino is best used for is straight-up fun – the open design means there's an Arduino board suitable for almost any project, and a wealth of add-on "shields" extends its abilities with ease.