Filed in:
Want to broadcast your gig live to the world? Nicecast is the easiest way to broadcast music from OS X. Broadcast to the world, or just across your house. Nicecast can help you create your own internet radio station or allow you to listen to your iTunes Music Library from anywhere in the world!
Filed in:
In memory of a great influence on music in the twentieth century:
Excerpt from Karlheinz Stockhausen's May 1972 lecture to the Oxford Union on 'Four Criteria of Electronic Music'. It proved to be astonshingly priescent. If you like this, get the whole lecture from Stockhausen-Verlang
There are also a bunch of other Stockhausen videos available on YouTube, and some other interesting sounds here
An interesting doco

Filed in: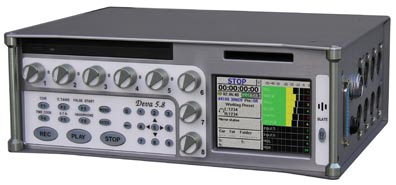 Zaxcom manufacture that rather spiffy looking Deva 5.8 field recorder, which features:
10 track recording on built-in hard disk, DVD-RAM or flash media
8 hardware faders
8 Analog mic/line inputs with 48V phantom power
8 Digital inputs
8 digital direct outputs
Built-in 16 channel mixer
EQ, notch filter, compressor and delay on each channel
Mix to disk or outputs pre or post fader
Record to external firewire drive w/no additional computers
Full metadata entry directly on Deva
Intuitive integrated color touch screen interface
The Deva 5.8 is a 10 track hard disk audio recorder for film and television production.  With 8 hardware faders and built in hard drive, DVD-RAM and Flash memory slot the Deva 5.8 is a complete solution of recording, mixing and effects in one package.
Fault tolerant multi-disk recording with automatic file recovery ensures that you deliver every bit of recorded audio even up to the point of an unexpected power failure.  As an extra precaution, power switches automatically from external to internal in the case of external power loss.
The Deva 5.8 has three internal recording mediums ensuring you can always have a copy of your recorded audio on set allowing production to instantly reference previous recordings. Disputes with post regarding recording issues can be immediately cleared up and extra copies of recorded audio can be produced in the case of lost, damaged or stolen material.
They also do an 8 track and 10 track recorder without the mixer, which have won some major awards – here for instance is the Deva V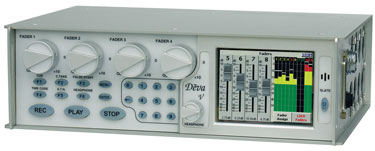 Other items of interest are high quality wireless audio links for field recording
Filed in:
We have been developing video tracking systems in Max/MSP for the last year to work with heavilly disabled clients in music therapy, so I was very interested to see a similar project featured on the Cycling 74 site. Cycling '74 || The Adaptive Use Instruments Project
We have also been working on video tracking for use in Music Therapy here at the VIPRE lab at the University of Western Sydney. Myself and Jon Drummond from the University of Western Sydney have been working with Alan Lem from the Nordoff Robins Music Therapy centre on an easily adaptable multi-timbrel sonification system that uses the concepts of Dynamic Orchestration (additional instrument area added as the gesture changes intensity, or some other established criteria), Realtime Synthesis so that the gestural nuances of the user are fully reflected in the sound, and a simple touch screen interface, and things like auto-scaling so that moving the camera to look at just one part of the body will provide the same result as looking at an entirely active body. The autoscaling function is also important to adjust to the range of movement of each client as they vary greatly. Here is a little video of some of the trials we did at Nordoff-Robbins with the very generous support of some of their clients.

Music Therapy from Garth Paine on Vimeo.
A press release from the University is available here
Filed in:
The SurveyGizmo: Online Survey Tool is a very useful tool for Web surveys, Polls, Forms, Quizzes etc
I have used it for researching performance techniques and it worked really well

Filed in:
Cakewalk have released the E-MU Proteus Packs
Digital Sound Factory has reissued the original Proteus sample content for use with Cakewalk's Dimension Pro and Dimension LE synthesizers. Founder Timothy Swartz is a 20-year veteran of E-MU Systems and producer of the original Proteus sound sets used in their hardware products. Using the original sample content, combined with the advanced parameters available in Cakewalk's Dimension, these new instrument programs were perfectly matched and tuned to the original hardware products.
The E-MU Proteus Pack consists of over 3,500 immediately useable, go-to sound programs, perfect for any style of music you can imagine. And when you combine them with the infinite synthesis options of Dimension Pro, they also provide the perfect springboards for custom sonic creations.
E-MU Proteus Pack* includes:
Proteus 2000: Multi-Purpose Professional Sounds
Mo' Phatt: Hip Hop / Urban
Xtreme Lead 1: Dance/Electronica
Planet Earth: World
Virtuoso 2000: Orchestral
PX-7: Drums Percussion
Over 3,500 different patches

Filed in: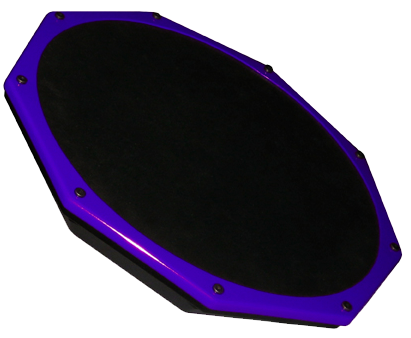 The USB Mandala Drum pad detects where and how hard you hit it and translates that information into sound and sound controllers for your playing pleasure and exploration.