Filed in:

Tim Place and co have been very bus developing Tomas Henriques' Meta-EWI, an extended AKAI EWI, with a bunch of additional sensors augmenting the breth and key sensors of the original instrument.
The META-EWI has the following extra sensors and actuators:
4 Force Resistance Sensors (4 CC)
1 Accelerometer with Tilt detection (providing 2 CC)
1 Joystick (providing 2 CC)
16 On/Off tactile switch buttons
There is information on the above site about how these additional resources are used.
Filed in: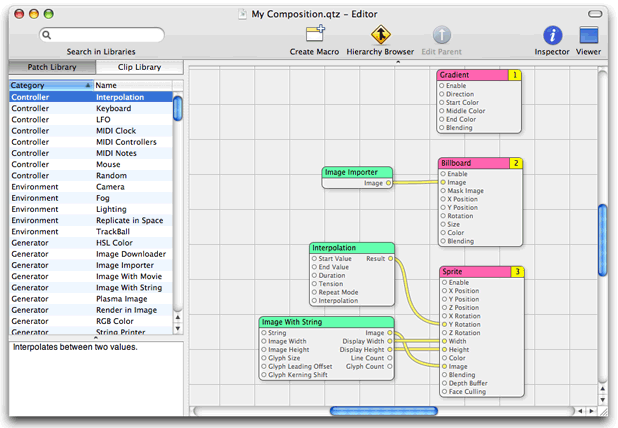 Apples Computers Quartz Composer Programming Environment is an extraordinarily powerful visual programming environment for video art.
Apple Says:
Quartz Composer is a development tool provided with Mac OS X v10.4 for processing and rendering graphical data. Its visual programming environment is suited for:
Developing graphics processing modules without writing a single line of code
Exploring the visual technologies available in Mac OS X without needing to learn the application programming interface (API) for that technology
Quartz Composer brings together a rich set of graphical and nongraphical technologies, including Quartz 2D, Core Image, Core Video, OpenGL, QuickTime, MIDI System Services, and Real Simple Syndication (RSS), which is a lightweight XML format.
You use Quartz Composer to create compositions, which are graphical programs. Compositions can run autonomously, or you can incorporate them into an application. You can play back and interact with a composition from within an application by using a very straightforward runtime API or without any code at all by using a QCView, which is provided on the Quartz Composer palette in Interface Builder. Quartz Composer compositions are fully compliant with the Cocoa controller layer and key-value bindings, allowing you to combine Interface Builder and Quartz Composer to rapidly develop data-driven visualizations.
After installing the developer tools, you can find the Quartz Composer application in:
/Developer/Applications/Graphics Tools/
Filed in:
The Lemur multitouch control surface is a fabulous tool – it is a completely re-configurable touch screen control surface with backside coding to allow physical properties such as gravity and friction to be associated with the physical models behind the on-screen controls.
Filed in:
The Nintendo DS and DS Lite consoles have a wide range of development in the HomeBrew area making use of the wireless and stylus (touchscreen) features.
One of them is the DS Motion Card
There are several videos on YouTube using the DS as an interface r wireless controller
Filed in:

This mini MP3 Player is mounted on a board for integration into your own instrument – possibly as a sample player. It can be controlled using a TTL Serial connection
Filed in:
Ther is a good set of demos of the KORG Kaoss Pad KP3 on YouTube