Filed in:
I have a series of works in the upcoming scan2Go exhibition, curated by Conrad Gleber, and Gail Rubini.
The College Art Association Services to Artists committee in collaboration with v1b3 (v1b3.com) are producing a printed catalogue of digital media art works entitled SCAN2GO. The catalogue will represent the artworks by printed QR codes, which function to connect viewers to digital media art works by using a smart phone.
The SCAN2GO catalogue will be dynamic for one year.
Artists will be assigned a QR code (printed in the catalogue) that links to an artwork.
Every four months each artist will provide us a new artwork for the QR link.
The printed catalog will be distributed during the CAA conference in Los Angeles, February 22-25, 2012. The QR codes are linked to a web address/url that shows an art piece (sound art, video, code pieces or web art) that will be viewed on smart phones and camera enabled tablet computers.
ESSAYS/WRITING
Conrad Gleber, Introduction
Meredith Hoy, Essay
Filed in:
I am playing my work Fue Sho for flute and live electronics (Kyma) as part of the ACME concert on Dec 2 at ASU in Tempe, Phoenix, Arizona – its free so come along if your in Tempe
Arizona Contemporary Music Ensemble (ACME)
Dec. 2, 2011, 7:30 p.m.
Herberger Institute for Design and the Arts
School of Music
Location: Katzin Concert Hall
Campus: Tempe
Cost: Free
The Arizona Contemporary Music Ensemble (ACME), directed by Glenn Hackbarth, presents a concert of works for small ensemble, soloists and electronics. Composed within the past few decades, the works on this program provide a view of the varied creative activity in the music of our time
you can hear a recording here
Filed in: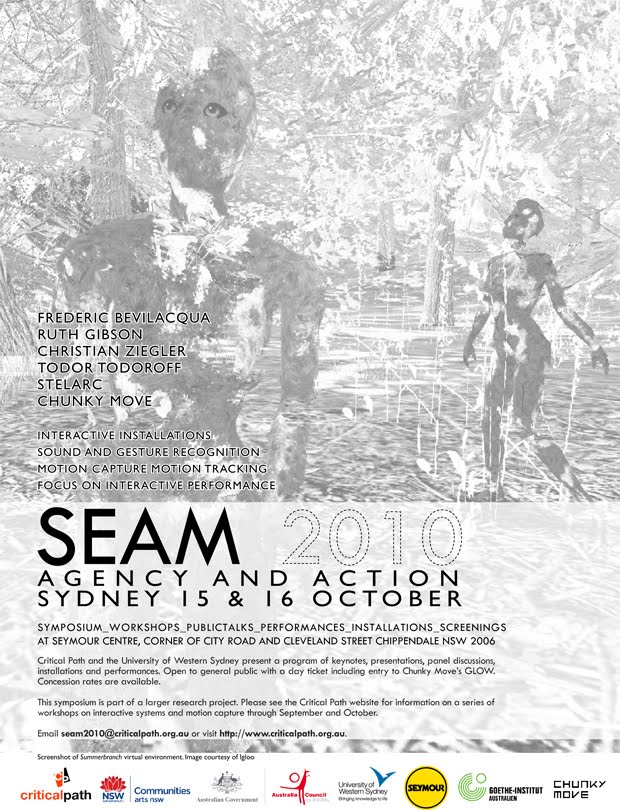 SEAM: Somatic Embodiment, Agency & Mediation in Digital Mediated Environments.
Critical Path (Director, Margie Medlin) and University of Western Sydney (Dr. Garth Paine) present SEAM 2010 Agency and Action.
SEAM 2010 follows on from the success of the inaugural SEAM 2009, and promises the same intriguing mix of artistic and academic research and presentations, crossing disciplines and offering a smorgasboard of performances, exhibitions, forums, workshops, laboratories, papers and presentations to specialist researchers and the general public alike.
Underpinning SEAM 2010 is groundbreaking academic and practitioner-based research occurring at the VIPRe Lab (Virtual Interactive Performance Research Environment), at the University of Western Sydney, Macquarie University and Critical Path as well as ongoing research from around the world.  In 2010, SEAM will establish a number of experimental environments to investigate and record the relationship between performer and audience and how notions of agency, embodiment and mediation are altered by interactive technologies. The notion of performance embodied in a myriad of forms made available through the most current technological advances will be thoroughly scrutinized.
The primary focus for SEAM 2010 is to provide a resource rich, stimulating environment for local dancers and choreographers and media artists to interact with local and international leaders in the field of interactive technologies and allied arts disciplines. We want dancers and choreographers to take away with them a raft of new tools, new knowledge, philosophical and performance frameworks, contacts and possible future partnerships in the creation of new or more profound directions within their contemporary choreographic practice.
For further information on SEAM 2010 events, click through the program of events on the left hand menu.
For more information on Critical Path, go to the Critical Path website.
Filed in: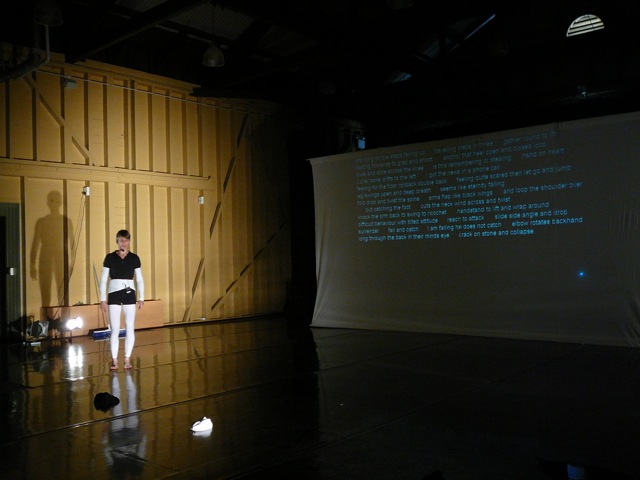 InTensions & Bodytext
Collaborative works by: Simon Biggs, Sue Hawksley, Garth Paine
Bodytext
Bodytext is a performance work which uses speech, movement and the body, to question and offer insight into the relations between movement, agency, representation and language.
Using real-time motion capture, voice recognition and interpretive language systems, the dancer's movement and speech are acquired and remediated within the performance space. The dancer's acquired speech is re-written within a projected digital display, the text animated by and re-presenting the performer's gestures. The performer can, through their movements, cause texts to interact and recombine with one another, changing their grammatical composition in the projection.
Visual Artist: Simon Biggs
Choreographer/performer: Sue Hawksley
Sound Artist: Garth Paine
Bodytext was completed through an artists' residency at the Bundanon Trust (Australia) and a subsequent collaborative residency with sound artist Garth Paine at the Virtual Interactive Performance Research Environment (VIPRe) Lab at the University of Western Sydney.
_____________________________________________________________________________
Details:
Date: Saturday 16th October
Time: 7.30pm
Venue: Woodend Barn, Banchory
Cost: £9 / £7
Booking: www.boxofficeaberdeen.com
via DanceLive | Aberdeen's contemporary dance and live music Festival.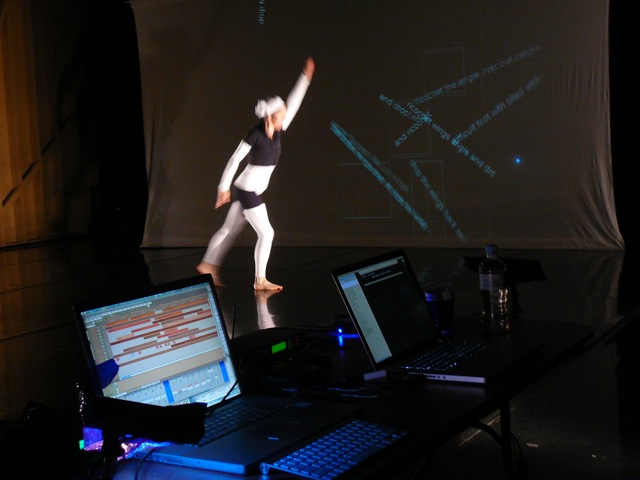 Filed in:
Come to the beautiful Bundanon – camp under the stars and discuss the climate…..
The Conversation Weekend, on 25 & 26 September 2010, will be the culmination of The Lab – a week when invited participants from a range of disciplines spend time in residence at Bundanon responding to the environment, landscape and histories of the site.Artists Diego Bonetto, Nigel Helyer, r e a, Barbara Campbell, Rayma Johnson, Alex Kershaw, Nick Keys, Heidrun Löhr, Richard Scott Moore, Garth Paine, Robyn Backen, Tess De Quincey and Peta Strachan have been working alongside environmental scientists Tim Cohen and Leah Gibbs and weaver and Landcare activist Jim Wallis.Siteworks is led by convenors Michael Cohen, Fiona Winning and Deborah Ely.
via Bundanon Trust – THE CONVERSATION.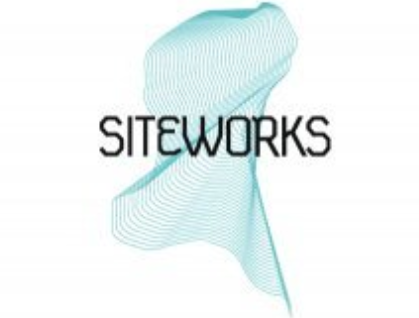 August 2, 2010 By: Garth Paine
Events
Filed in:
Submit CALLS FOR 5.1 SURROUND SOUND WORKS
SUBMIT TO UNSOUND FESTIVAL NEW YORK Deadline: August 23, 2010
BASIC INFORMATION
audience has been invited to participate in Unsound Festival New York, a "festival of advanced music and sound art." Founded in 2003, Unsound is an annual event held in Krakow, Poland; in Spring 2011, the festival organizers will present the second edition of Unsound Festival New York at venues throughout the city. This event will be presented with the Polish Cultural Institute New York and Goethe-Institute New York, with an array of partners including The Trust for Mutual Understanding.
Conceived in 2006, audience is an unprecedented project that explores the cinema as a 21st century concert hall. It is dedicated to the advancement of aural arts by providing wide distribution and new contexts for works by emerging and established sound artists and composers. The centerpiece of audience is a biennial program of 5.1 surround sound works by international artists intended for presentation in movie theaters as "cinema in the dark."
Filed in:
I was involved in this interesting research project over the last 2 years – here is a short documentary video about the project made by Mike Leggett
Thinking Through The Body ArtLab 08 is an interdisciplinary research project exploring the use and potential of touch, movement and proprioception (the sense of ones position and volume in space) in body-focused interactive art practices. Project participants are: Catherine Truman, Garth Paine, George Khut, George Khut, Jonathan Duckworth, Lian Loke, Lizzie Muller, Maggie Slattery and Somaya Langley.
The project has been supported through the Australia Council, Inter-Arts Offices ArtLab 2008? initiative, and generously supported by Campbelltown Arts Centre, The Bundanon Trust, and Performance Space.