Filed in:
Come and be amazed – immersed in sound, abducted by aliens and generally transformed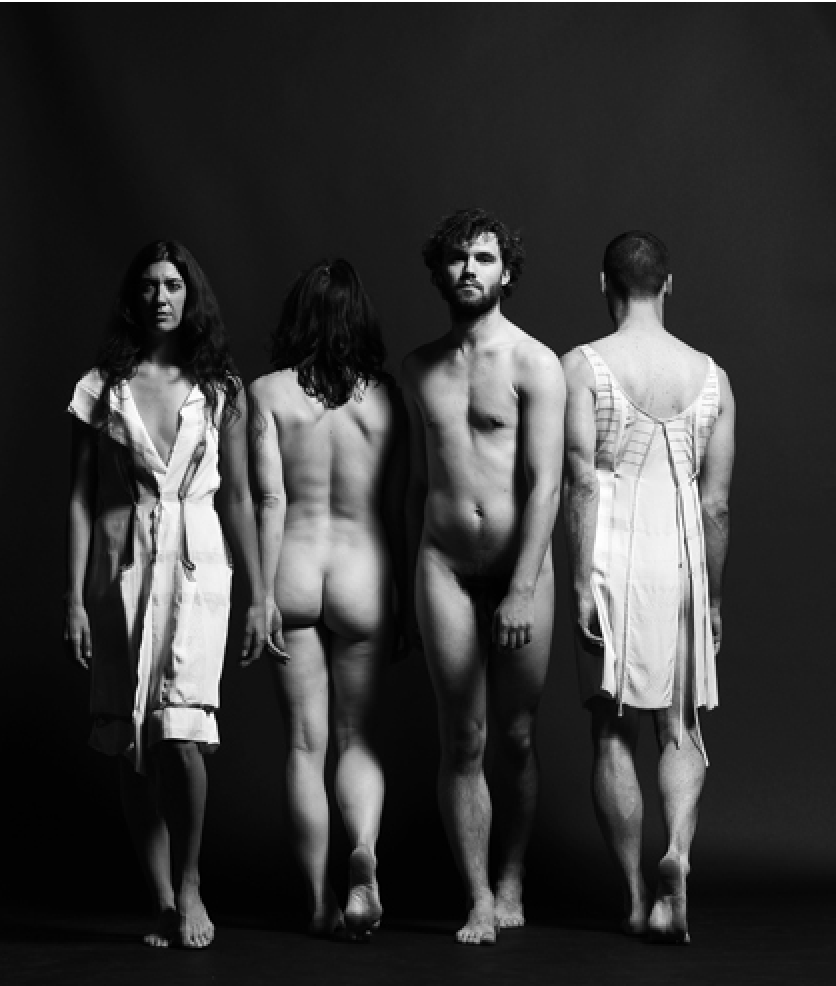 [photo Busby]
And All Things Return to Nature Tomorrow
Phillip Adams BalletLab
Overview
WORLD PREMIERE SEASON
From vibrational energy and utopian impulses to alien abduction, this immersive performance draws together dance, sound, set design and fashion to envelop audiences into an otherworldly, transformative experience.
Choreographers Brooke Stamp and Phillip Adams construct a kinetic space where time is elastic; driven by sublime, generative sound composed by Garth Paine. In the second half – Adams' Tomorrow – some members of the audience are asked to participate to become part of the installation and performance, creating an architectural abduction experience.
Building on Adams' passion for collaboration across art forms, the performance features a live electronic score by Garth Paine, set design from architect Matthew Bird, clothing and design by Melbourne fashion designer Susan Dimasi from Materialbyproduct, and lighting design and effects by Robin Fox. Each choreographer will perform in their own piece alongside dancers Deanne Butterworth, Rennie McDougall and Matthew Day.
A participant in the L'Oreal Melbourne Fashion Festival Cultural Program.
Phillip Adams BalletLab is assisted by the Australian Government through the Australia Council, its Arts Funding and Advisory Body. This project has also been supported by Arts Victoria, The Ian Potter Foundation, The Angior Family Foundation, the Besen Family Foundation and Ken.
WARNING: This performance contains full nudity and immersive sound effects.
Filed in:
My work Endangered Sounds which questions sound patenting (Sound Marks) is part of an exhibition of ASU faculty and graduate students at the Night Gallery in Tempe for the month of December 2012.
The exhibition called "The Activity of Sound" in Art honours legendary experimental composer John Cage.
This exhibition, partially funded by the City of Tempe, is a tribute to visionary American musician, writer, and visual artist John Cage on the 100th anniversary of his birth and the 20th anniversary of his death.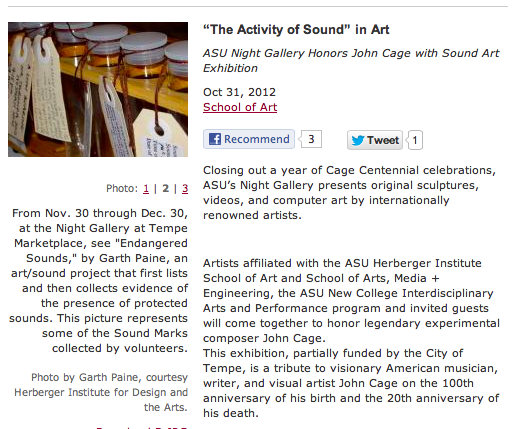 Filed in:
I am delighted to have three pieces curated into the Ear to the Earth, John Cage festival in New York in December 2012. Field recordings I made in Paris and New York are part of the Cagean Mix #1: Sounds from Around the World on the 20th and Christmas Party-Cagean Mix #3: Sounds of New York City on the 23rd.
On December 22 at 8PM, I will be performing flute with live electronic processing accompanied by an 8 channel acousmatic background composed from Australian field recordings – here are the program notes…..
Garth Paine: Conversation —Prelude
Garth Paine writes: "The idea for this music arises from a number of residency periods at Bundanon in Australia, where I undertook explorations in engaging in conversations with the landscape. These conversations took several forms: ambisonic recordings of the natural environment; piano wire fixed between trees to record the sounds generated by the movement of the tree trunks in the wind (tightening and loosening the tension of the wires) and through bowing and striking the wires; and vocalisations recorded as improvised conversations with the land and the birds. These materials come together here as a prelude to an ongoing inquiry into the ways in which we converse with nature on a daily basis. And I'm playing a flute as one example of my part of the conversation."
Filed in:
I had some find performing on my Tempest Drum machine with Pincushioned (Barry Moon and Doug Nottingham), this week at the 1st Fridays event at Deus ex Machina, Phoenix
Filed in:
I will be at TROIS C-L with BalletLab from November 18 to December 8
http://www.danse.lu/?page_id=9209