Filed in:
A video of the early tests of my new Singing Bowl robot – the sound is not good yet, but there is more experimentation in the beater leather to soften the sound timbre
The Singing Bowls Robot V2 from Garth Paine on Vimeo.
Filed in:
Version 2 of the Singing Bowls robot. This one is excellent – the motors are really wuiet – the foam works really well – easy to work, good quietning characteristics and really strong. I am very proud of the spring loaded servo connection to the playing stick – this allows for small variations in pressure and for minor in-consistencies in the bowls symetry. You can see the Arduino and Xbee in a poacket and the battery pack goes in the other side.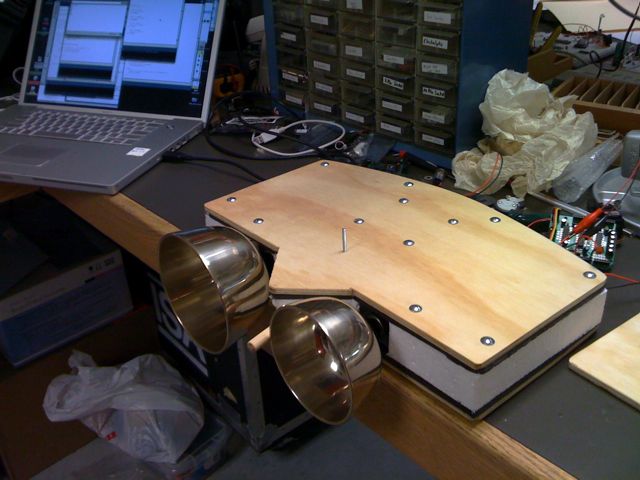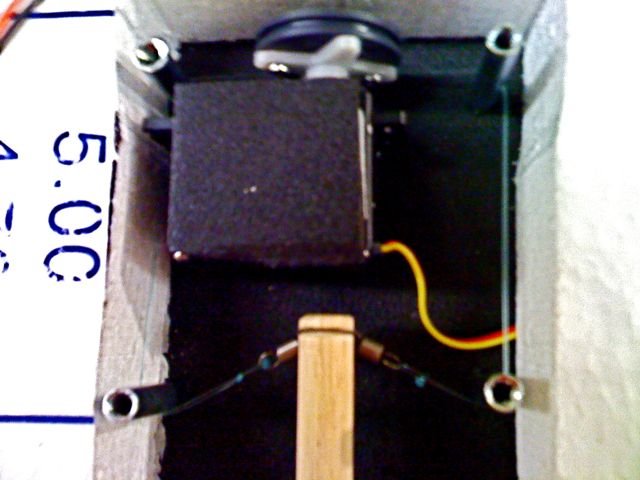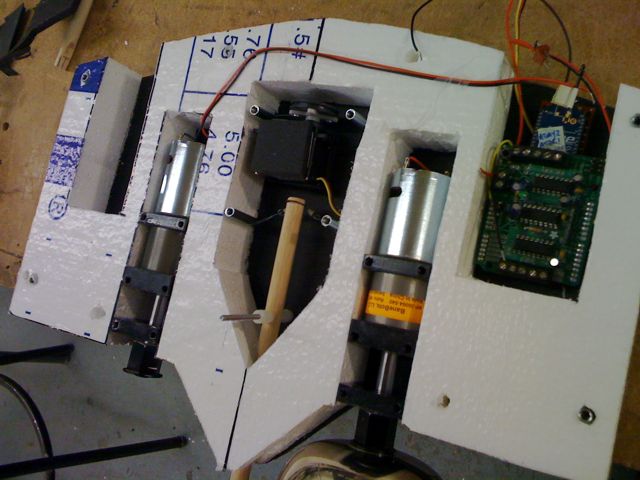 Filed in:
the This is a great little, Arduino compatible board, which has an XBee slot on the back, making it cheaper than purchasing an Arduino and XBee shield and also giving it a much much smaller form factor. It is compatible with the Arduino API although you need to download the Funnel library as it has some other functionality. – well worth a look
It based on the original design from LilyPad Arduino v1.6. It has connections for a Lithium Polymer battery and includes a charge circuit over USB. An XBee socket is available on the bottom of the board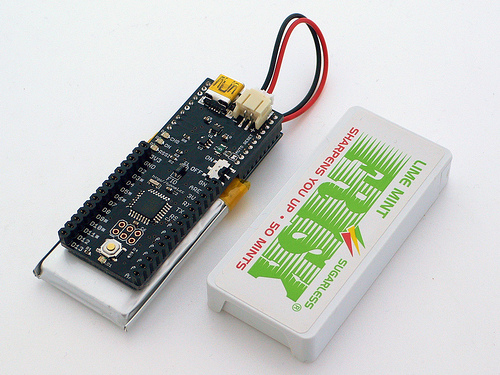 Filed in:
Interesting new sensing platform which looks great for bio-sensing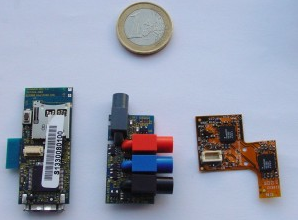 Shimmer Small Wireless Sensor Platform Designed to Support Wearable Applications
Wireless Sensors have progressed in recent years due to the development of micro electromechanical MEM technology. However, traditional constraints such as size, weight, reliable wireless communication and power consumption are issues that wireless sensors must contend with. Shimmer provides and extensible platform that allows you to overcome traditional hardware and software constraints through the following features:
Very low power consumption
Soft power switching
Small form factor: 50mm x 25mm x 12.5mm
Light weight: 15 grams
Readily connects via Bluetooth or 802.15.4 radio
Platform Features
Compact Form Factor, Light & Wearable Weight: 15 Grams, Volume: 50mm x 25mm x 12.5mm
Wireless communications via Bluetooth® and 802.15.4 WML-C46A, CC2420
Offline Data Capture – Micro SD Card Storage – 2 Gigabytes
SD data bypass 8MHz MSP430 CPU 10Kbyte RAM, 48Kbyte Flash, 8 Channels of 12 bit A/D
Open Platform, driven by TinyOS
Internal and external connectors for expansion
Includes simple serial command interface for Bluetooth®
Integrated TCP/IP stack for 802.15.4
Integrated 3-axis MEMs accelerometer with selectable range
Integrated tilt / vibration sensor
Integrated Li-ion battery mgmt.
Supported by BioMOBIUS™ graphical software platform
Available as add-on extension boards and accessories
Kinematics sensing – Designed for motion capture applications. The design uses a pair of dual-axis gyroscopes.
3 Lead Micro-power electrocardiograph ECG – Utilised for the capturing of ECG data
2 Lead Micro-power electromyograph EMG – Utilised for evaluating and recording the activation signal of muscles
Passive Infra Red –
USB dual UART programming dock – for programming and applications where wired serial communication are desirable. Also acts as a single SHIMMER™ charger
SHIMMER™ Charger dock – battery charger cradle that can charge 6 SHIMMERs simultaneously
Analog Breakout board to thru-holes for rapid prototyping – enables multiple analog signals to be plugged into SHIMMER™.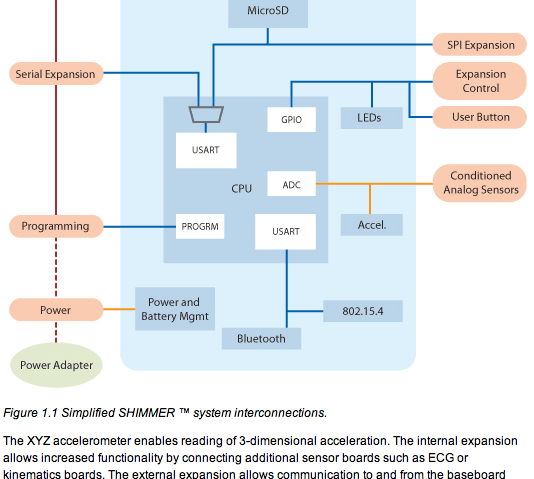 Filed in: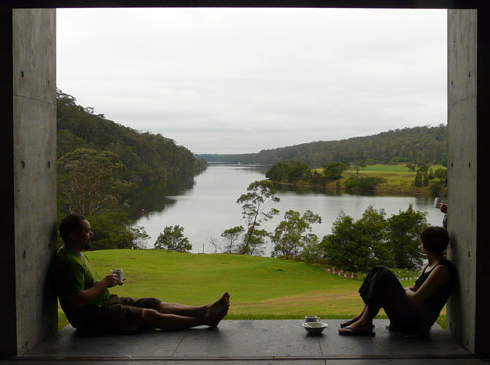 The Thinking Through the Body project will be at Carriage Works for the week of July 27, 2009.
We will have some workshops on the weekend if you are interested in seeing what is going on.
If you would like to know more, go to
Thinking Through The Body Blog