Filed in:
I will be at TROIS C-L with BalletLab from November 18 to December 8
http://www.danse.lu/?page_id=9209
Filed in:
Great Rasberry PI audio setup tute http://mitchtech.net/
Filed in:
Currently your Arduino can only beep like a microwave oven. Mozzi brings your Arduino to life by allowing it to produce much more complex and interesting growls, sweeps and chorusing atmospherics. These sounds can be quickly and easily constructed from familiar synthesis units like oscillators, delays, filters and envelopes.
You can use Mozzi to generate algorithmic music for an installation or performance, or make interactive sonifications of sensors, on a small, modular and super cheap Arduino, without the need for additional shields, message passing or external synths.
For example sounds and to download the library visit the Mozzi site on Github.
Mozzi was developed by Tim Barrass, extending on our earlier collaborative work on Mobile Sonifications.
Filed in:
I love this piece – particle by Kanta Horio
Very imaginative and very well done. I saw a performance at NIME in Japan in 2004, which had an additional movement using paper – folding, tearing etc and Jitter scrubbing was amazing use of digital technology
Filed in: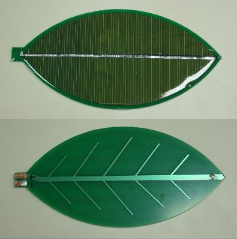 14/05/10 Greendix announces the first leaf shaped crystalline silicon solar panel in the world.Greendix's President Mr. Joseph Lin:In order to provide a new life to a conventional technology and help it merge more naturally into our surroundings, my team has developed a new process to design and produce leaf shaped solar panels.This will revolutionize users and designer's stereotypical thinking that Solar panels can only come in rectangular shapes.Our vision is to be able to build green solar trees using this product and plant solar trees even in places that real trees can't grow or survive.Other than the cosmetic advantages of this product, the solar tree concept can be a renewable energy source for different types of applications, for example it can be used in decorative home and garden products, infrastructure projects, electric car charging station, consumer products, etc.Our company would like to pass on this concept and help conserve our environment one leaf at a time!
via 綠霖光電有限公司.
Filed in:
French artist Celeste Boursier-Mougenot's New commission for The Curve, Barbican, London, a work drawing on the rhythms of daily life to produce sound in unexpected ways.
For his installation in The Curve, Boursier-Mougenot creates a walk-though aviary for a flock of zebra finches, furnished with electric guitars and other musical instruments. As the birds go about their routine activities, perching on or feeding from the various pieces of equipment, they create a captivating, live soundscape.
27 February 2010 – 23 May 2010
The Curve, Barbican, London
http://www.barbican.org.uk/artgallery…
Another approach to getting a pay check without having to play the music 🙂
Filed in:
This Pat Metheny project is very interesting. He has built/had built (they look like Eric Singers work to me??) an Orchestrion, a robotic orchestra that is responding to his guitar playing style on the fly – check it out